Matt Patterson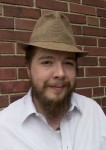 Program: Interdisciplinary PhD in Urban Design and Planning
Matthew Patterson is a graduate of the School of Public and Environmental Affairs MSES/MPA program at Indiana University. While at SPEA he assembled a program on Urban Ecology, and has been a part of the Center for the study of Institutions, Populations, and Environmental Change. He is currently pursuing his PhD in the Urban Ecology Research Laboratory, and was a recipient of the Hall-Ammerer-WRF fellowship at UW.
His past research has focused on the interactions between people and urban forest ecosystems, with an emphasis on how management practices on single family residential parcels and institutions impact urban forest structure. He is currently investigating the the Urban Microbiome, and is conducting a study of the bacterial community of Seattle Parks.
Publications
An Analysis of the Sustainability of Monitoring of Conservation Easements in the USDA Forest Service's Forest Legacy Program—Indiana University, Bloomington (white paper for USFS, in press)
References
Vogt, J. M., Watkins, S. L., Mincey, S. K., Patterson, M. S., & Fischer, B. C. (2015). Explaining planted-tree survival and growth in urban neighborhoods: A social–ecological approach to studying recently-planted trees in Indianapolis. Landscape and Urban Planning, 136, 130–143. http://doi.org/10.1016/j.landurbplan.2014.11.021
Schmitt-Harsh, M., Mincey, S. K., Patterson, M., Fischer, B. C., & Evans, T. P. (2013). Private residential urban forest structure and carbon storage in a moderate-sized urban area in the Midwest, United States. Urban Forestry & Urban Greening, 12(4), 454–463. http://doi.org/10.1016/j.ufug.2013.07.007
Vogt, J. M., Mincey, S. K., Patterson, M., & Fischer, B. C. (2012). Predicting Urban Tree Success: Establishment, Maintenance, Growth, and Condition of Neighborhood-Initiated Tree Plantings. In 2012 International Society of Arboriculture Annual Conference & Trade Show. Portland, OR: International Society of Arboriculture.
Schmitt-Harsh, M., Mincey, S. K., Patterson, M. S., Evans, T., & Burnell C. Fischer. (2012). Carbon storage and ecosystem services of urban trees in Bloomington, IN as a function of development age. In 97th ESA Annual Meeting. Portland, OR: Ecological Society of America. http://eco.confex.com/eco/2012/webprogram/Paper37258.html
Mincey, S. K., Schmitt-Harsh, M., Patterson, M. S., Fischer, B. C., & Evans, T. (2012). Analysis of private residential urban forest structure and management in Bloomington, Indiana: A social-ecological systems (SES) perspective. In 97th ESA Annual Meeting. Portland, OR: Ecological Society of America. http://eco.confex.com/eco/2012/webprogram/Paper36728.html
Projects:
The Influence of Institutional Dynamics on Urban Tree Management in Bloomington, Indiana –
http://www.indiana.edu/~cipec/research/cres.php (publications being written)
Developing an urban site index (USI) for sustainable tree planting programs – Indiana University, Bloomington (ongoing)
Events:
Student participant at the International Workshop on Science, Innovation, Industry and the Academy. http://knowledgediffusion.org/workshop/index.html