Welcome to the UERL.
The Urban Ecology Research Laboratory (UERL) is directed by Professor Marina Alberti, and includes interdisciplinary PhD students, post-doctoral research associates, research scientists, and affiliate faculty from diverse disciplines who collaborate to study coupled natural and human systems.
Studying Cities as Hybrid Ecosystems
As part of the University of Washington's innovative leadership in urban ecology research and education, the UERL transcends traditional disciplinary boundaries to address some of society's most challenging problems. Our research interests include: complexity and resilience in coupled natural and human systems, urban landscape patterns and ecosystem function, urban ecosystem management, modeling land cover change, adaptation and scenario planning.
Contact us
Email: uerl@uw.edu
Phone: 206.616.9379
432 Gould Hall
3949 15th Ave NE
Seattle, WA
Follow @UrbanEcoLab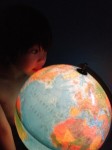 Matteo exploring planet earth