Future of the Puget Sound – Event!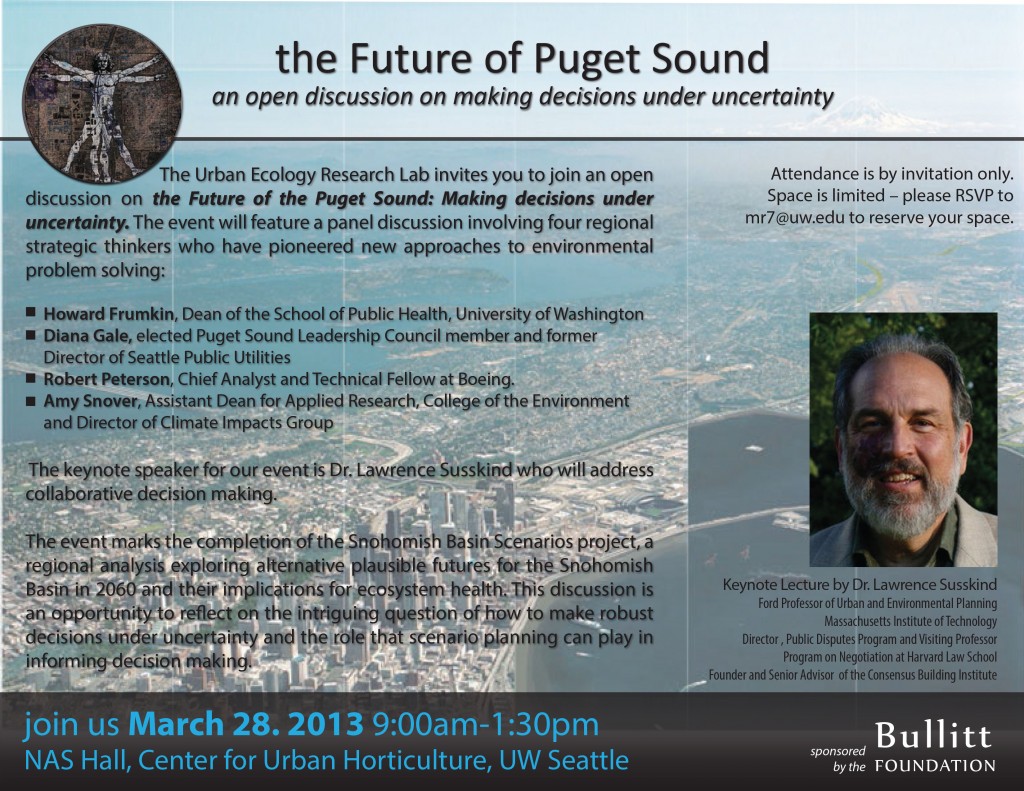 We look forward to seeing you on March 28th for the open discussion on the "Future of the Puget Sound: Making decisions under uncertainty." The event will take place in the Northwest Horticultural Society (NAS) Hall at the Center for Urban Horticulture from 9:00am to 1:30pm. Directions can be found on the Center's website: http://depts.washington.edu/uwbg/visit/directions.shtml.
The event will feature a panel discussion on decision-making under uncertainty. Our panel will discuss what changes in the way we frame scientific questions, design strategies, build institutions are necessary to incorporate uncertainty into decision making. Panelists include:
Howard Frumkin, Dean of the School of Public Health, University of Washington
Diana Gale, elected Puget Sound Leadership Council member and former Director of Seattle Public Utilities
Robert Peterson, Chief Analyst and Technical Fellow at Boeing.
Amy Snover, Assistant Dean for Applied Research, College of the Environment and Director of Climate Impacts Group
Dr. Lawrence Susskind, Ford Professor of Urban and Environmental Planning at MIT and the Director of the Public Disputes Program will close the session with a keynote presentation on collaborative decision making in times of uncertainty.
The event marks the completion of the Snohomish Basin Scenarios project, a regional analysis exploring alternative plausible futures for the Snohomish Basin in 2060 and their implications for ecosystem health.
Agenda
9-9:30 Poster session
9:30-10 Decision making under uncertainty (Alberti)
10-10:15 the Snohomish Basin 2060 Scenarios (Russo)
10:15-10:30 Break
10:30-12:00 Panel discussion
12:00-12:30 Lunch
12:30-1:30 Keynote Presentation (Susskind)